Silent Grief: Pregnancy Loss, Grieving, and Hope
It still hurts and I can't explain it away.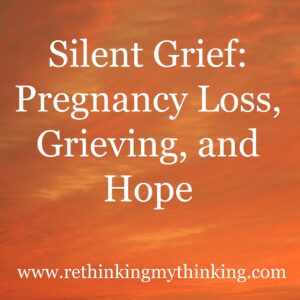 There are these babies who crawled into my heart, but died in my womb. And a part of my heart still beats for them 13 years later.
Even thought I only held them in my body a short time, I began the process of planning their nursery decor, of how we would tell their older sister, and dream of who they would become.
Those dreams and plans left marks in my heart, empty places, tender spots, broken places.
The Lord is near to the brokenhearted
    and saves the crushed in spirit. Psalm 34:18 ESV
And still there is hope. There is a God who draws near to us – the brokenhearted. He does not watch from afar and He does not waste one tear we shed.
You have kept count of my tossings;
    put my tears in your bottle.
    Are they not in your book? Psalm 56:8 ESV
God knows the tears and the pain and He is comforting us, He is near us, He loves us. He is using these tears to make us more like Him – more compassionate, more willing to love on babies. He is using our tears to remind us this world is not our home.
My babies I lost would be 12, 11, 9, and 7 now. They would all be grade school aged, reading. My van would be full, but this side of heaven I have some empty seats at my table. While the emptiness hurts, I know that one day I will see them all in heaven.
So until then I pray God will fill the emptiness with love for all children and with His compassion for all who are grieving.
How is God using your grief today?