When Healing Drags On: Remaining Faithful in the Process
Be still before the Lord and wait patiently for him;
    fret not yourself over the one who prospers in his way,
    over the man who carries out evil devices! Psalm 37:7 ESV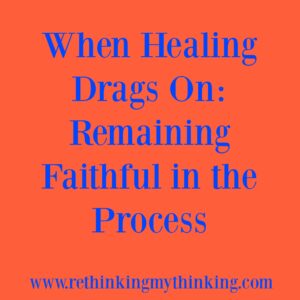 My gaze was drawn to them like a moth to flame and my heart flipped longingly – jealously. They were runners simply going for a Saturday morning run. I looked down frustrated at my right foot. My foot injury sidelined me for nearly a year and still there were very few answers. There were a few times the injury seemed better, nearly healed and then something happened…I used a ladder barefoot or I walked barefoot and the pain and swelling returned.
Frustration. Irritation. Anger. It is taking so long to heal. The process is confining, exhausting, and at times feels futile.
God's gentle nudge shocks me. Spiritual healing takes time too, Angela. The kind where God burns out the garbage I collect, the bitterness I cling to, the habitual anger I feed. And slowly He grows healthy fruit in my life. If only I wait for Him.
But I have to trust Him in the confining moments as well as those free mountain-top healthy moments. I have to trust Him to be near me, heal me, even when there seems to be no end of my habitual sin. And slowly He breaks the cycle. He helps me choose wisely. If only I wait on Him.
Father God I admit that I want to be free from my habitual sins. I confess that I cling to things that I should not and I don't want to wait for the long healing. Help me to trust You as you slowly rid my life of deep-seeded sin. Help me to wait for Your timing, Your way, and Your healing. In Jesus' Name I pray. Amen.