Self Control: How to Cling to God When Life Hurts
But the fruit of the Spirit is love, joy, peace, patience, kindness, goodness, faithfulness, gentleness, self-control; against such things there is no law. Galatians 5:22-23 ESV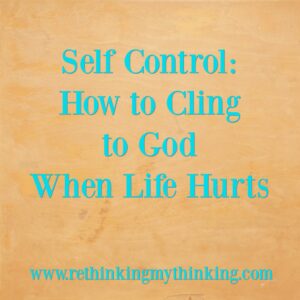 When life sucker punches me, my first reaction is to drop everything and tend to the throbbing place. I don't feel like "adulting" because my soul is aching. All I want to do is find a hole. Find a comfortably dark hole that I can have dinner delivered to and just hide and heal.
But instead of healing, like a dog, I lick my wounds. I rehearse the sucker punch, play it in slow motion in my head. I rehearse what I should have said and make up their side of the conversation. I end up bitter and angrier than the day it happened. I refuse to let God take a good look at my pain because it may mean I have to do something to heal. I am the wounded one after all. Shouldn't I choose the best way to get better, to heal? But God reminds me:
For the word of God is living and active, sharper than any two-edged sword, piercing to the division of soul and of spirit, of joints and of marrow, and discerning the thoughts and intentions of the heart. Hebrews 4:12 ESV
God's Word is the place to go to heal. The thing to cling to when life gets tough because it has surgical precision to help us deal with life. It helps us understand ourselves and have the right perspective in life. It points out where we need healing. It shows us how we can heal from life's sucker punches and our own self-inflicted infections. And it takes self-control – a fruit from God Himself – to cling to God in the midst of the pain and let Him heal our wounds. It takes self-control to stay in God's Word and to live God's Word when the circumstances of life are painful.
Oh, but on the other side is healing. The wonderful process of becoming more like Jesus.
Father God sometimes the pain in life feels like wounds. It is easier often to pick at the wounds than to allow You to heal them. Lord we pray that Your Spirit will grow self-control in our lives so that we cling to You as You cleanse our wounds. We pray that we will trust You to heal us. In Jesus' Name we pray, Amen.