How My Daughter Taught Me Gratitude
She fell and something snapped.
He came running wild-eyed into the kitchen.
"She hurt her arms. She's screaming…L," his eyes round as saucers as he pointed out back.
Her daddy ran and something in my heart snapped too…I waited, I walked, and met them bare footed in the damp grass.
Mud covered one arm of her arms, but it was her other arm – the left one – she held close to her body in that unnatural way.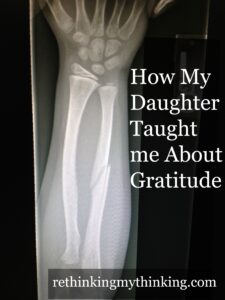 My husband and I washed the mud from her right arm as a friend grabbed an ice pack.
In less than two minutes she was in my van and just the two of us drove to the ER.
Her cries were softer than when she landed under the monkey bars on our play-set, but she still cried in great gasping breaths.
My momma heart squeezed tight. I wanted to hug her, but I was driving and her wing it was damaged.
"Do you want me to turn on music?" I offered over her cries.
"No," she barely managed.
"Can I sing you a song?" I tried again. I had to do something to help her out.
"No."
"God please help her arm to feel better. Help the doctors know what to do," I whispered my prayers.
"Mommy," she gulped back some tears, "this reminds me of a story I learned in co-op class…"
She told me the story – the best her pain clouded seven-year-old mind could remember.
"So, the moral is even if you are rich you can live in misery if you are not thankful?" I asked her.
"Uh, huh," she replied. "I don't want to live in misery."
"So what can you be thankful for now?" I ventured.
"For hospitals, and doctors…"
"For friends and monkey bars (even though you fell)?"
"Yes and …"
My heart burst wide open as my girl recounted things she was thankful for while her arm was broken.
And God whispered to my heart, She hears what you are teaching her…You could learn from her too…
Father God give us grateful hearts. Hearts that see all of life as ordained and ordered by a loving God. Eyes that see the sunset, the foliage, the wonder of Your creation and gives You praise and thanks for creating it. Minds that see how You redeem even the most difficult parts of our lives for Your glory and honor. Thank You for Jesus. Amen.