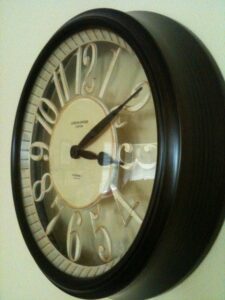 Yesterday about 8:30 AM I read Psalm 34. I underlined the following verses:
The angel of the LORD encamps around those who fear him,
and he delivers them.  (verse 7)

The LORD is close to the brokenhearted
and saves those who are crushed in spirit. (verse 18)

The LORD redeems his servants;
no one will be condemned who takes refuge in him. (verse 22)
At 3:16 PM I tweeted and posted on Facebook Psalm 34:18.
About 4:15 PM I checked my e-mail – another magazine rejected my manuscript. Tears pricked my eyes, my heart felt heavy, but I was at dance class with my daughter. I couldn't let them fall. I checked the time I received the e-mail. 8:41 AM – ten minutes after I read Psalm 34. God knew I would need to read those verses today.
On the drive home God reminded me of Psalm 34. His angel encamps around me. He is near me – the brokenhearted and crushed in spirit – and He saves me. He will not condemn me when I take refuge in Him.
The questions come heedless of verses. What am I doing LORD? Am I just hitting my head against the wall or am I walking the road you have for me?
5:15 PM amid cries, fits, and howls I take my three kids and two puppies out for a walk (or drag)/ride (two bikes and a scooter). My L was sure she couldn't make it up the hill on our street. I found myself encouraging her, "Don't give up. You can do it. Pedal harder." As I hollered, God whispered to my heart, "Don't give up. In me and my timing you can do it. Just wait on Me."
L made it up the hill at least three times. Maybe I can too.
What hill are you climbing? Leave me a comment so I can pray for you as you climb your hill.